Top U.S. Area to Buy a Vacation-Rental Home? The Panhandle
Posted by Delawalla Group on Tuesday, July 28, 2020 at 7:17 AM
By Delawalla Group / July 28, 2020
Comment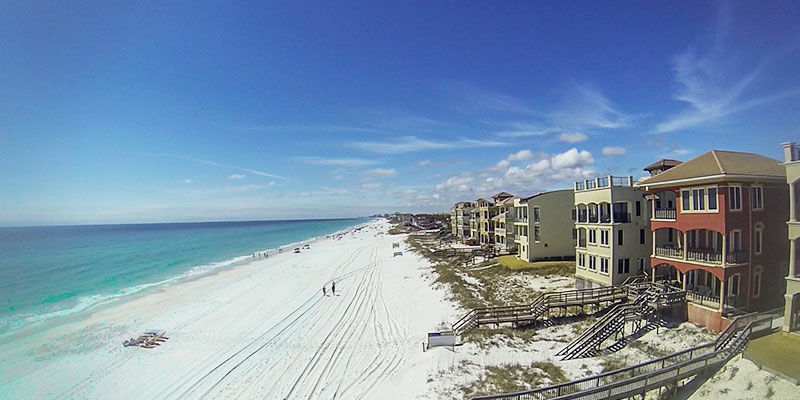 Top U.S. Area to Buy a Vacation-Rental Home? The Panhandle
Weiss Analytics: Fla.'s Panhandle offers the best returns on vacation-home investments in the U.S., while Siesta Key and the Miami Beach metro also made the top 20 list
NEW YORK – Real estate investors are scrutinizing second-home markets as they hunt for growth opportunities, even during the pandemic. After all, "travel doesn't stop when the economy weakens – it changes where people travel," a new report from rental management site Rented Inc. and Weiss Analytics notes.
"In 2020, travelers want to stay closer to home, and they are seeking genuine experiences. High on the list are Instagram-worthy, outdoor locations, and the highest returns come from homes that enhance the guest experience," the report states.
Rented and Weiss note a "dramatic shift" in drive-to destinations and markets within two to five hours of major metro areas, which are seeing some of the highest returns in vacation home rentals.
Rented Inc. and Weiss Analytics' fifth annual analysis of top vacation rental markets looks at properties based on the highest return on investment. The rankings use a three-bedroom, two-bath stand-alone home rental as a base and then compare this vacation housing across hot spots based on homeownership, short-term revenue potential, cost to acquire, annual appreciation and projected changes in asset value.
Overall, the report found that Florida's Panhandle is the top vacation-home investment area in the U.S. with an index score of 98.7, though Siesta Key and Miami Beach also made the top 20. Out of 100 cities rated, El Paso, Texas, came in last with an index score of 13.9.
Top 20 U.S. vacation-rental investment spots
1. Florida Panhandle – 98.7 (index score)
2. South Jersey Shore, N.J. – 93.4
3. The Poconos, Pa. – 93.0
4. Smoky Mountains, Tennessee – 77.8
5. Central Texas – 77.7
6. Phoenix Metro Area, Ariz. – 77.0
7. Ocean City, Md. – 74.4
8. Siesta Key, Fla. – 74.2
9. Charleston Metro/Coastal, S.C. – 73.5
10. Hampton Roads, Va. – 73.3
11. Hudson Valley, NY – 72.9
12. Leavenworth, Wash., D.C. – 72.4
13. Inland Empire, Calif. – 72.1
14. The Adirondacks, NY – 71.3
15. Chattanooga, Tenn. – 70.6
16. The Hamptons, NY – 70.2
17. Columbus, Ohio – 69.9
18. Portland, Maine – 69.4
19. Miami Metro Area, Fla. – 68.6
20. Omaha, Neb. – 68.5
Other Florida metro area rankings
26. Tampa Bay Area – 66.1
36. Orlando Metro Area – 61.6
38. Cape Coral – 60.8
51. Jacksonville – 56.8
68. Daytona Beach – 52.2
75. Cocoa Beach – 49.4
89. Marco Island – 41.8
Source: "100 Best Places to Buy a Vacation Rental in 2020," Weiss Analytics and Rented (2020)
https://www.floridarealtors.org/news-media/news-articles/2020/07/top-us-area-buy-vacation-rental-home-panhandle
© Copyright 2020 INFORMATION INC., Bethesda, MD (301) 215-4688