The Heartwarming Tale of The Blue Giraffe: Where Art and Dreams Come to Life on 30A, South Walton, Florida
Posted by Amin Delawalla on Thursday, November 2, 2023 at 1:09:39 PM
By Amin Delawalla / November 2, 2023
Comment
Welcome to The Blue Giraffe: Where Art and Dreams Flourish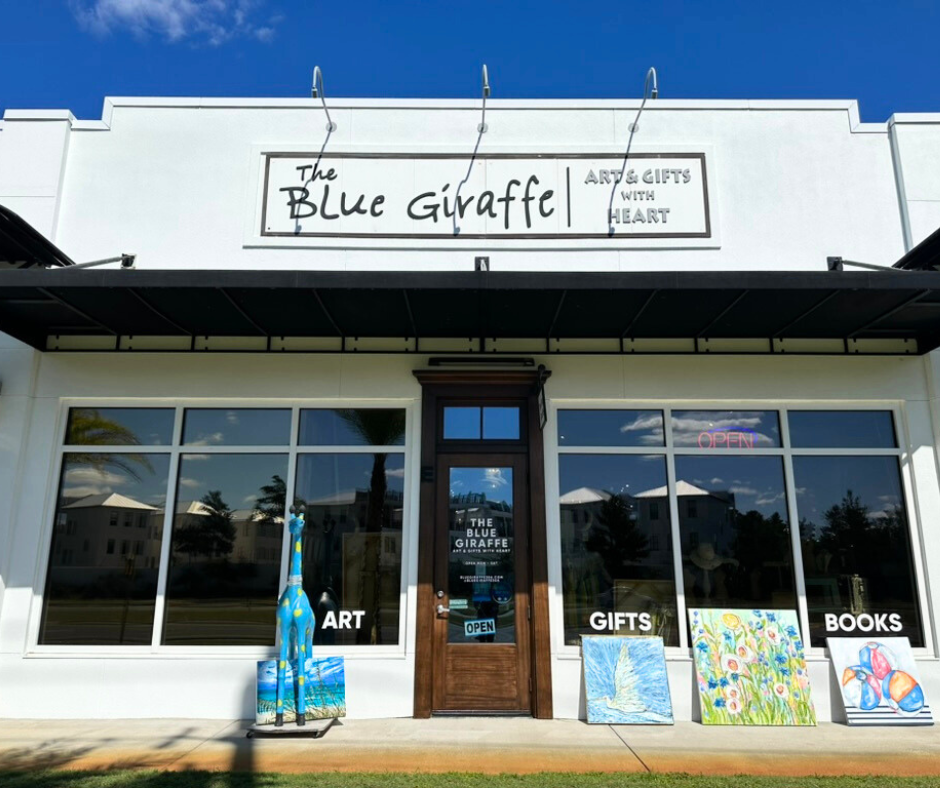 Nestled in the heart of South Walton, Florida, The Blue Giraffe is more than just an art gallery; it's a vibrant testament to the dreams and creativity of a mother-daughter team, Debbie Taylor and Christi Sheffield. Their inspiring journey has transformed this gallery into a beloved local institution, a place where art comes alive, and dreams take flight.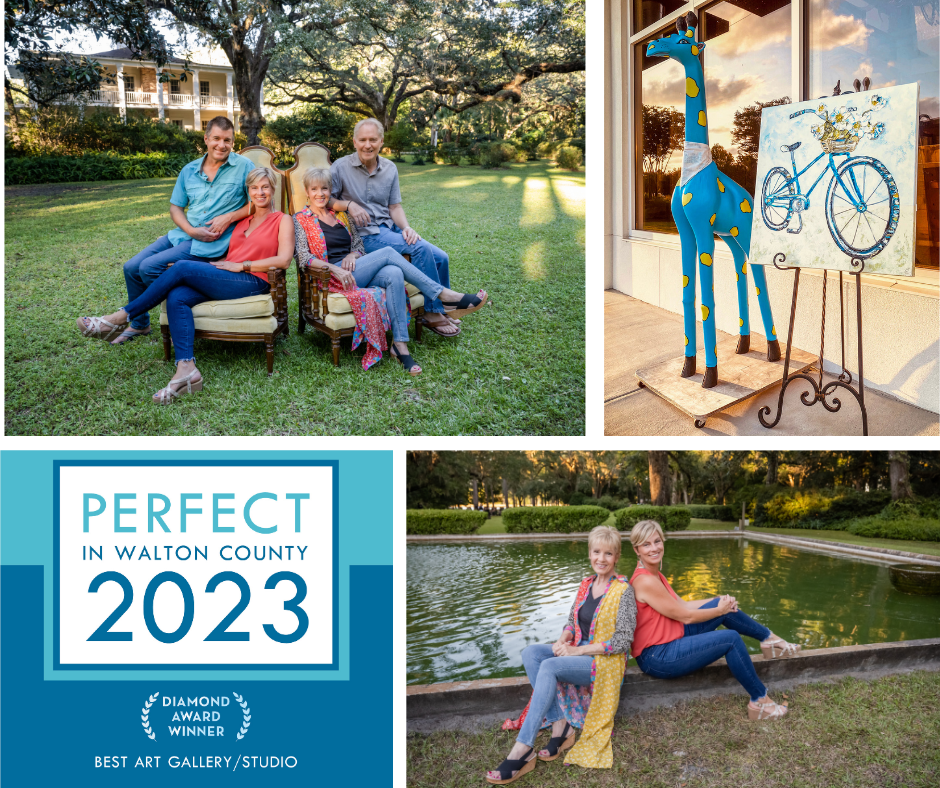 Debbie Taylor's Serendipitous Journey
Debbie's story is a testament to the transformative power of following one's heart. She traded corporate life for the tranquility of Watersound Beach, where serendipity danced in the salt air. Here, she realized not one but two lifelong dreams. One was owning a charming bookstore, nestled inside The Blue Giraffe's art gallery. The other dream was to be in business with her daughter, Christi.
Beyond her role as a loving mother, Debbie plays a vital behind-the-scenes role as The Blue Giraffe's business consultant and financial advisor, supporting Christi's creative vision. Her life is filled with joy, thanks to her soul mate, Larry, and their beloved Ragdoll "kittys," Bella Blue and Wiley.Debbie's heart extends to the work done by South Walton Turtle Watch; she was a volunteer turtle walker for 8 years, and her participation in local book clubs. Her passions include photography, sketching & watercolor painting, Pilates, golf, and travel.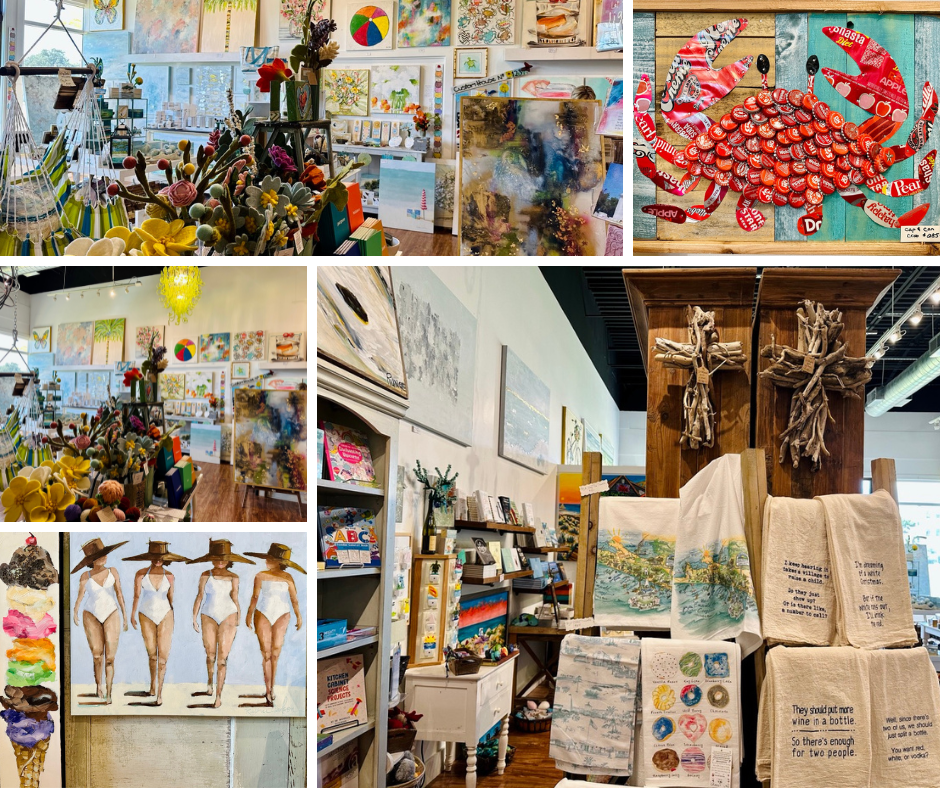 Christi Sheffield's Dream Come True
Christi's journey is equally inspiring. She always harbored dreams of a life in the arts and working alongside her mother. After a career in accounting, her dreams became a reality. Another dream materialized when she met her soul mate, Cliff, on an extraordinary day – her parents' wedding anniversary. Christi radiates positivity and helps others realize their artistic potential, as evidenced by the original pieces adorning The Blue Giraffe's walls.
She's not just the face of the gallery; she's the heart and soul. Her infectious smile and laughter keep customers returning year after year. Christi's love for food, wine, and craft cocktails is matched only by her joy in toasting to life with friends and family. Her "happy" includes yoga, beach days, reading, traveling, cooking, and the occasional playful reminder that she's her mom's boss.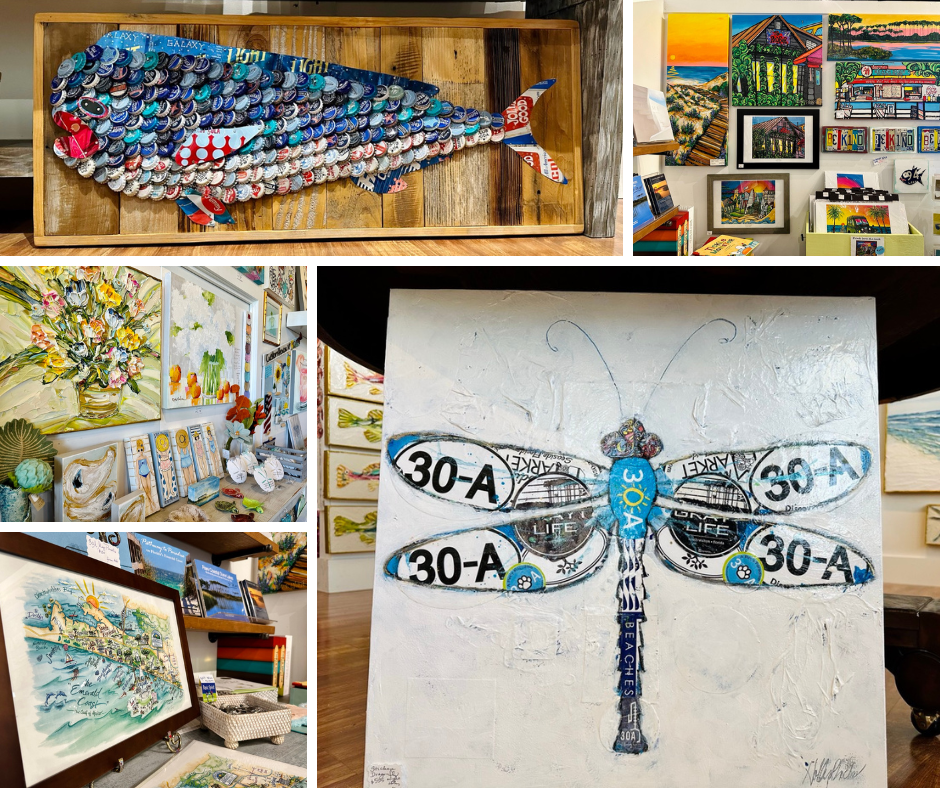 A God-Wink of Destiny
In September 2010, The Blue Giraffe's story took an unexpected turn when Christi received a life-changing call from Michele Myers, the gallery's creator. Some may call it coincidence; they prefer to see it as a God wink. Michele believed that a divine force led her to ask Debbie and Christi to take over her "fun and funky" shop on 30A. Less than 60 days later, they stood together, holding hands inside the gallery, as Michele said a heartfelt prayer and handed over the keys. As she walked out the door, Debbie and Christi exchanged astonished glances, and the magic of The Blue Giraffe began to take shape.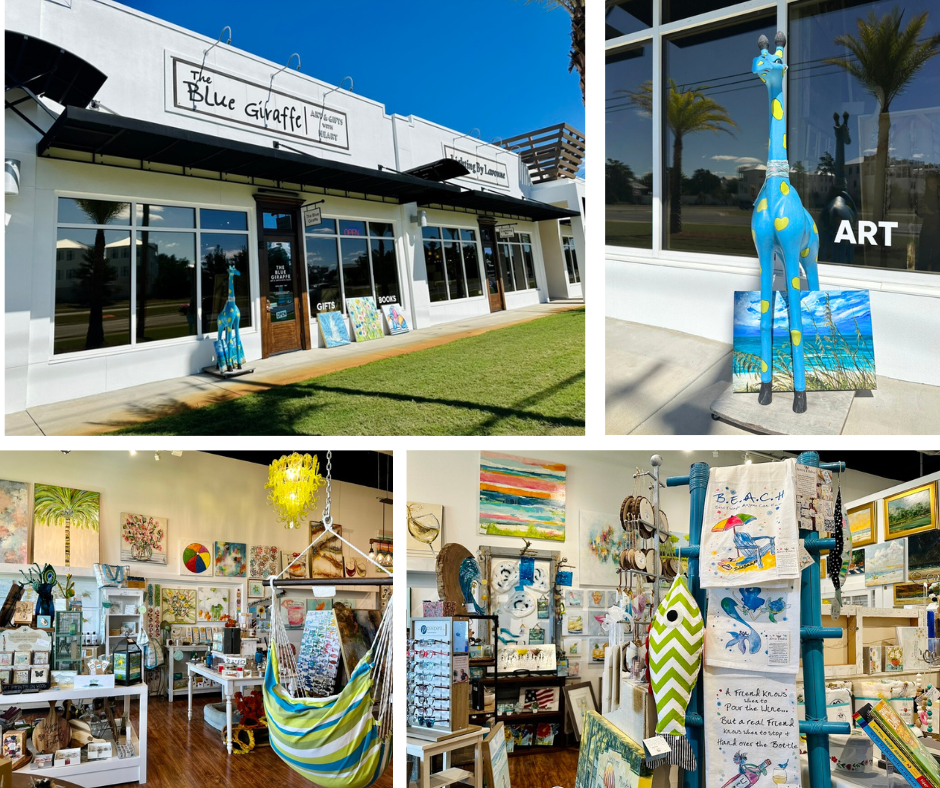 A Gallery Designed Just for You
The Blue Giraffe's vibrant and inviting space is a testament to their dedication to spreading happiness. As you explore the gallery, you'll discover inspirational gifts and art that span from floor to ceiling. They proudly represent numerous local and regional award-winning artists who exclusively partner with them to showcase and sell their remarkable creations. Christi and her amazing Gallery Manager, Kelley Stobaugh, delight in helping customers find the perfect piece of art and the ideal gifts. With Kelley's beloved companion dog, Lola, shopping becomes an even more enjoyable experience for everyone.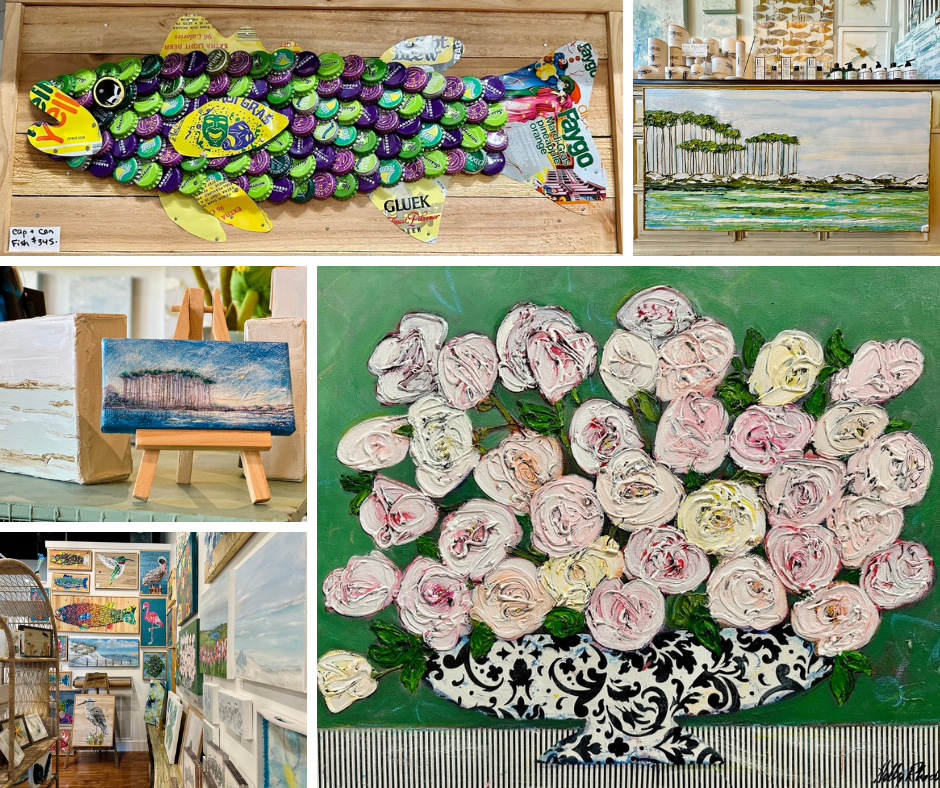 Meet Jeanie, the Photogenic Icon
Their story wouldn't be complete without introducing you to Jeanie, the gallery's original blue giraffe. She stands tall and proud outside the front door, ready to welcome you with open arms. Named in honor of Debbie's mother and Christi's beloved Grandma, Jeanie is incredibly photogenic and thrives in the limelight. Did you know that a giraffe's heart is two feet long and weighs 25 pounds? The Giraffe Team imagines their hearts to be just as big. They use their heart power to spread happiness not only on 30A but also beyond, supporting organizations that extend love to people and animals in need.
A Legacy of Excellence
The Blue Giraffe's journey has been marked by excellence, earning them top-three awards in the Perfect in South Walton competition for several years. In 2023, they proudly hold the #1 spot with the coveted Diamond award. This year also marks their 13th anniversary, and you're invited to join the celebration at their Open House on Saturday, November 18, 2023, from 10am-4pm. Save the date!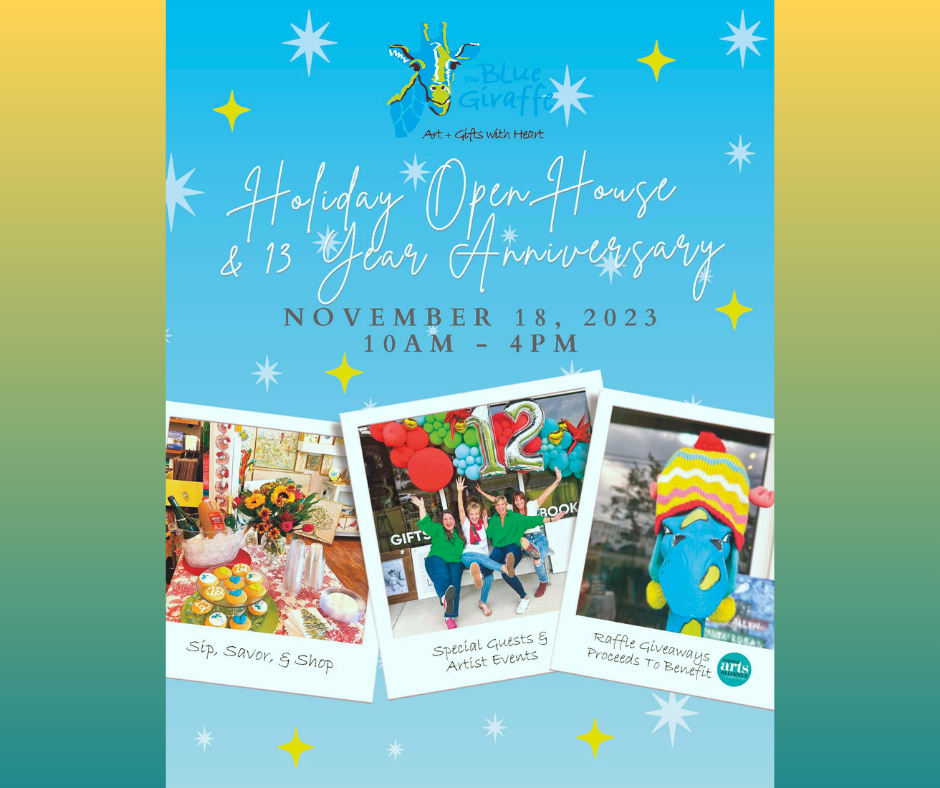 Discover The Blue Giraffe Today
You can find The Blue Giraffe at Crossings at Inlet Beach, just east of the Rosemary Beach/Hwy 30A & 98 intersection. Their relocation to Inlet Beach from WaterColor in October 2019 has made the gallery even more accessible, with ample parking available to the side and back of the building. You'll fall in love with their upbeat gallery, brimming with amazing artists and one-of-a-kind gifts.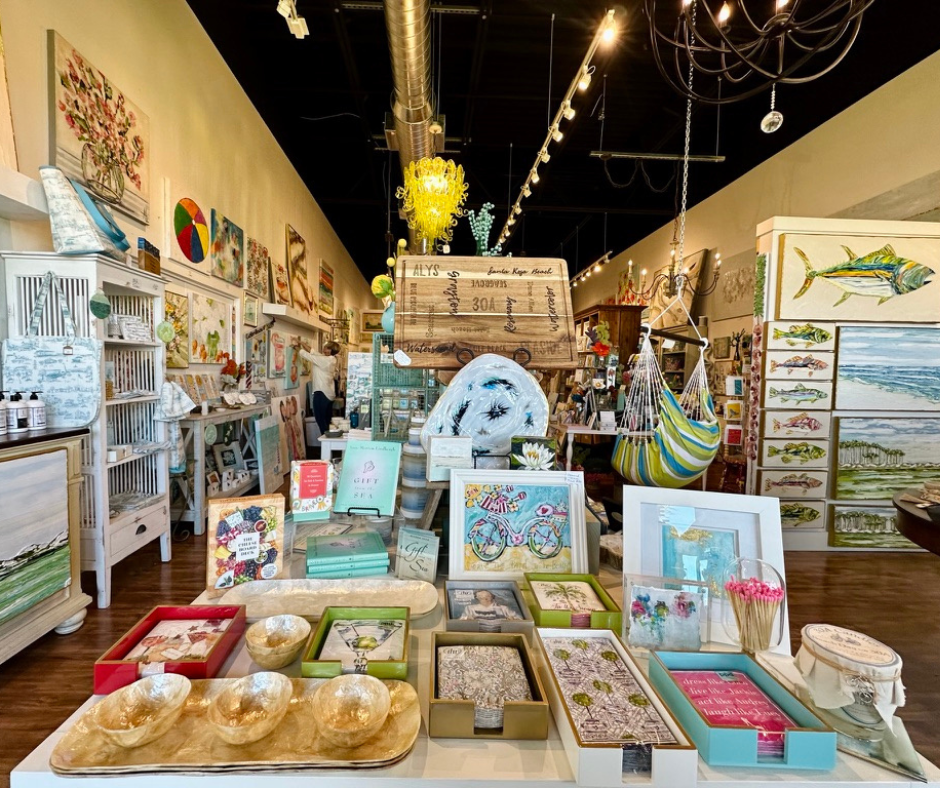 The Blue Giraffe isn't just a gallery; it's a heartwarming story of dreams realized, love shared, and a commitment to spreading joy through art and creativity. Come and be a part of their journey, and let The Blue Giraffe inspire your heart and soul.
To Visit The Blue Giraffe Website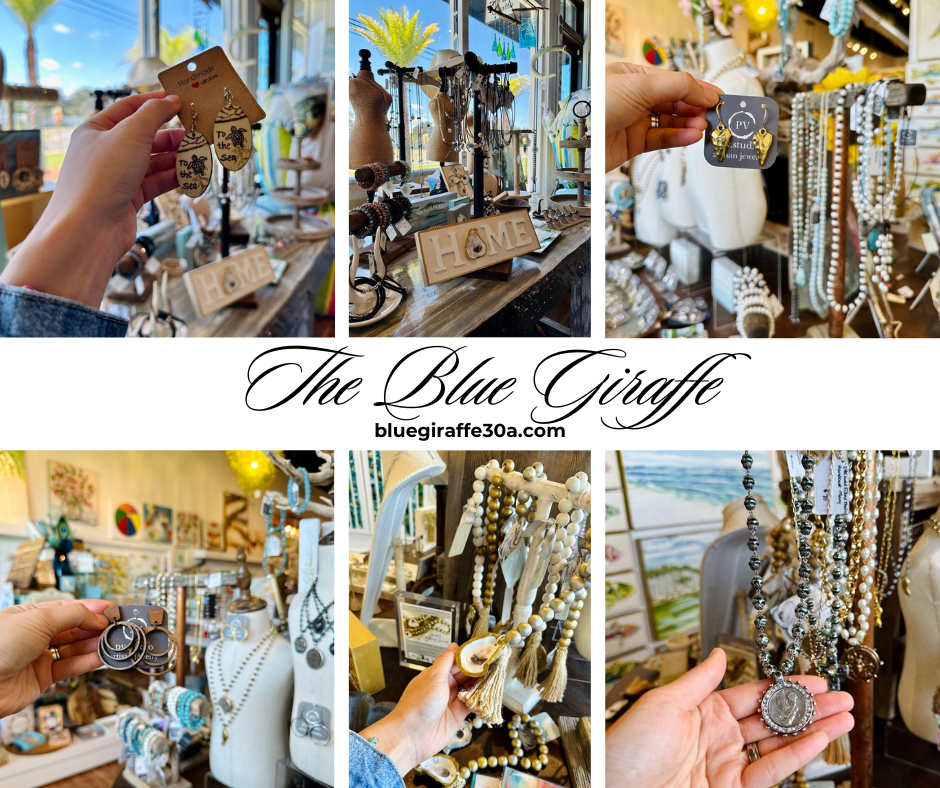 Phone(850) 225-9899

Email[email protected]

Address Delawalla Group
Berkshire Hathaway Home Services - Beach Properties of Florida
6652 E. Co. Hwy 30A, Suite 110
Watersound, FL 32461