2023 Thanksgiving Dining from Destin to Panama City Beach, Emerald Coast, Florida
Posted by Amin Delawalla on Monday, November 6, 2023 at 2:27:55 PM
By Amin Delawalla / November 6, 2023
Comment
Thanksgiving is a time for gratitude, togetherness, and, of course, delicious food. But what if you could pair your Thanksgiving feast with the stunning backdrop of the Emerald Coast in Florida? That's right, The Delawalla Group believe that the beach goes great with Thanksgiving, and we've scoured the region from Destin to Panama City Beach to find the perfect dining options that will allow you to spend more quality time with your loved ones and less time in the kitchen. So, whether you're planning a romantic holiday getaway for two or a grand family reunion, we've got you covered with a list of Thanksgiving dining options that are sure to make your holiday memorable.
From Delawalla Group -- Happy Thanksgiving!!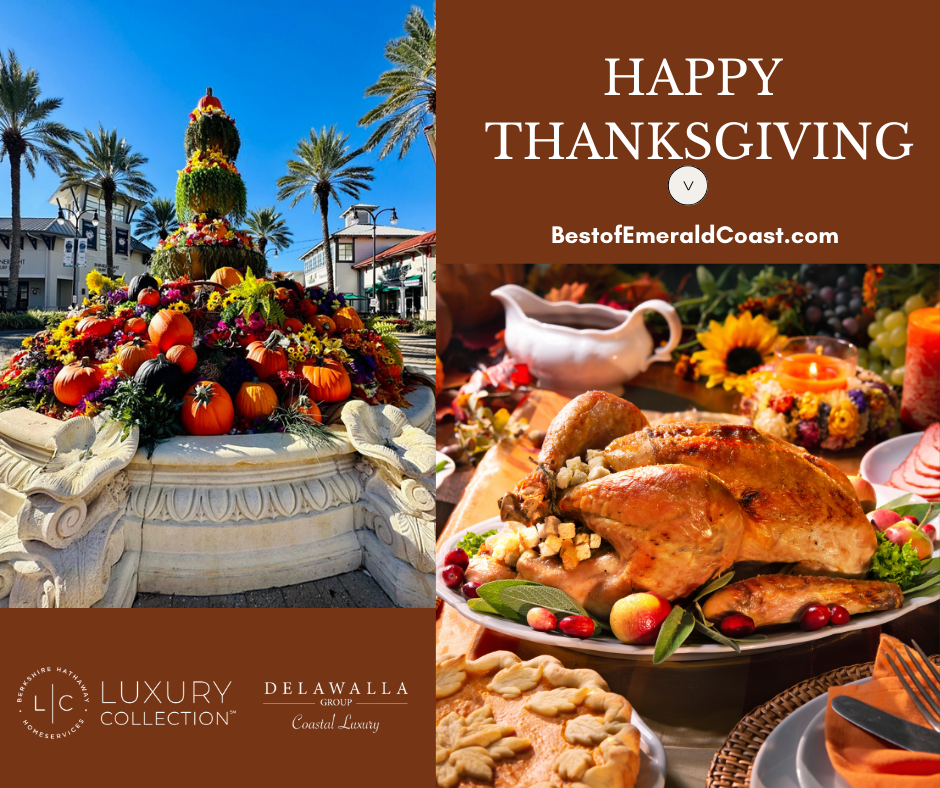 Destin & Fort Walton Beach:
1.Bitterroot: Choose from dinner and à la carte options in a four-person take-out package for $140. Pickup available on November 22. Call 850.460.8881 to place an order or obtain more details.
2.Brotula's Seafood House & Steamer: Enjoy their annual Thanksgiving meal from 11 a.m. to 7 p.m. Reservations recommended at 850.460.8900. Visit brotulas.com for more information.
3.East Pass Seafood and Oyster House: Open from 11 a.m. to 5 p.m. on Thanksgiving Day. Reservations recommended at 850.424-3507.
4.Emerald Grande: Traditional Thanksgiving meal with seatings at noon, 2 p.m, and 4 p.m. Reservations required at 850.424.0622.
5.Grande Vista Bar & Grill: Special three-course plated Thanksgiving dinner from noon to 4 p.m. Reservations highly recommended at 850.424.0621.
6.Harbor Docks: Open from 11 a.m. to 7 p.m. Serving a traditional Thanksgiving meal. Donations accepted for Destin Harvest and Habitat for Humanity.
7.Henderson Beach Resort: Unforgettable Thanksgiving feast with a bountiful buffet spread. Reservations required. More details available on their website.
8.Jackakuda's: Full Thanksgiving buffet from 11 a.m. to 5 p.m. Reservations recommended at (850) 460-2909.
9.Marina Cafe: Annual Thanksgiving Buffet from 11 a.m. to 7 p.m.
10.Ruth's Chris Steak House: Sizzling turkey breast with cranberry relish and sides from 11 a.m. to 3 p.m. and 5 to 8 p.m.
11.Sarah K's Gourmet: Take-home Thanksgiving packages. Orders must be received by November 16.
12.Sealand: Thanksgiving buffet from 11 a.m. to 5 p.m. Reservations recommended at 850.244.0044.
13.Soleil: Three-course Thanksgiving feast from 11 a.m. to 8 p.m. Reservations available online or by phone.
14.790: Traditional turkey and ham dinner with all the sides. Open from 11 a.m. to 5 p.m. Reservations highly encouraged.
Miramar Beach:
1.Fleming's Fine Steakhouse and Wine Bar: Three exceptional courses on Thanksgiving Day beginning at 11 a.m.
2.Ovide: Spectacular Thanksgiving buffet at Hotel Effie Sandestin from 11 a.m. to 3 p.m. Reservations available.
3.Royal Palm Grille: Thanksgiving menu with harvest salad, turkey, dressing, and dessert. Call 850.424.7300 for details.
4.Solaris: Thanksgiving dinner on the water aboard the 125-ft. Solaris yacht. Make reservations now.
5.The Surf Hut: Open Thanksgiving Day, offering a traditional plated dinner and a limited menu.
6.Vin'tij Food & Wine: Traditional Thanksgiving feast with seafood and vegan options.
7.Commelfó: Traditional Thanksgiving meal with European touches at 6 p.m. Live music included. Make a reservation at 850.353.2991.
Santa Rosa Beach & 30A:
1.The Bay: Thanksgiving lunch served from 11 a.m. to 3 p.m. Reservations available.
2.The Big Chill 30A: House-smoked turkey, traditional sides, and pies available for pickup.
3.Blue Mountain Bakery: Fully-cooked pick-up menu with reheat instructions.
4.Café Thirty-A: Dine-in or take a Thanksgiving to-go meal.
5.Chanticleer Eatery: Family-style Thanksgiving catering for pickup.
6.Cuvee 30A: Louisiana fried turkey and traditional trimmings.
7.Down Island Gulf Seafood Restaurant: Thanksgiving feast with three courses.
8.Farm & Fire: Thanksgiving buffet with reservations and pickup options.
9.Fish Out Of Water (FOOW): A la carte Thanksgiving items available.
10.Gallion's: Heat and serve dinner package for up to six guests.
11.Havana Beach Bar and Grill: Thanksgiving buffet with coastal cuisine.
12.LaCo: Traditional Thanksgiving buffet with soup, salad, sides, and desserts.
13.Modica Market: Organic, free-range Thanksgiving turkey and side dishes.
14.North Beach Social: Regular daily menu available on Thanksgiving.
15.Old Florida Fish House: Traditional Thanksgiving buffet.
16.Red Fish Taco: Third annual Turkey Dance celebration.
17.Stinky's Fish Camp: Open for Thanksgiving dinner.
18.WaterColor LakeHouse: Annual Thanksgiving brunch and takeaway meals.
19.Ambrosia Prime Seafood & Steaks: Thanksgiving at WaterSound Town Center locale. Make reservations at ambrosia30a.com or call 850.909.0100.
Panama City Beach:
1.The Grand Marlin: Dine-feature with soup or salad, roasted turkey entree, and pie for dessert.
2.Runaway Island: Thanksgiving buffet at the beachside restaurant.
3.Saltwater Grill: Traditional Thanksgiving buffet with menu and pricing.
4.Shades 30A: Fried turkey pickup for four to six people.
5.Destin Ice Market: Online ordering with meal pickup available.